Mikes Amazing Cake Research
Renowned cake maker in need of delicious user research
The Mike's Amazing Cakes increasing online presence is designed to showcase Pastry Chef Mike McCarey's one-of-a-kind, customizable decorative cakes. His web presence is mostly primarily informative, but also has a commercial element in the sale of tutorial DVDs and other cake paraphernalia. In the world of digital marketing, it's important to understand who is interested in your services and why. The research done sheds light on possible featuring offerings and marketing tactics to be used.
Problem
Clients and information seekers online can differ from those seeking services through more 'traditional' means. A problem that often affects businesses that made their start before the internet is knowing how to go about targeting the new digital audience. Although most of the tried and true market research techniques hold true today, the way to go about them has changed. Who is Mike's online audience, and how can he better cater to them?
Solution
Provide and overall analysis into Mike's Amazing Cakes website and digital presence, along with research into what can be doing to improve.
Deliverables
Task Matrix & Personas
IA
Analytics
Usability test
Results and Findings
User Surveys
In three days, thirty-four users participated in the survey. Of those, 88% were first-time visitors. Surveying former and potential, along with comparing with existing customer data provided a lot of insight into users.
The target audience breakdown based on surveys and analytics:
3% pastry student
6% Event Planner
11% Bride- or Groom-to-be
80% Members of the general public.
Personas and Task Matrix
Leena Singh (30)
"My wedding must be perfect."
Grade School Teacher
Mountain View, CA
Jamie Johnson (35)
"Efficiency is everything."
Event Planner at Microsoft
Redmond, WA
Derek Atkinson (22)
"I'm a force to be reckoned with."
Caterer / Aspiring Cake Designer
New York, NY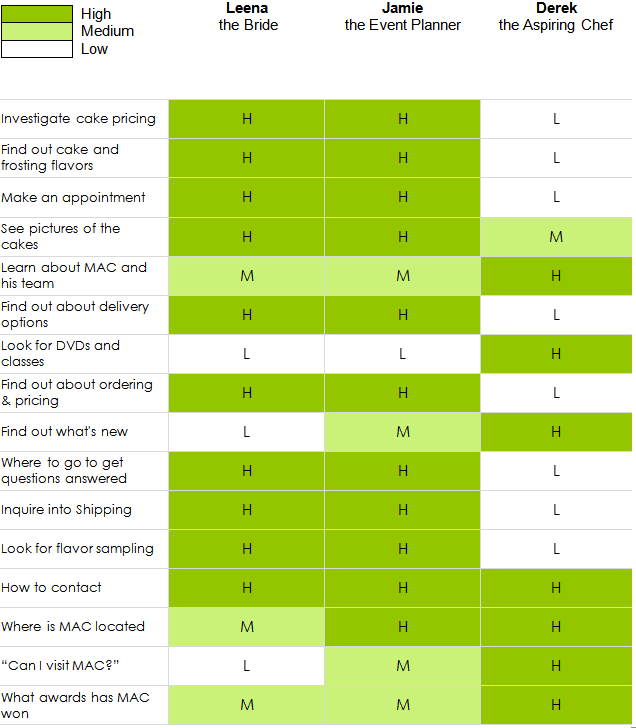 Analytics
With access to web analytics sources, the following demographics were determined:
100% from US
Average ages young 18-34
Split for Male/Female
MAC's user has children
Sites that have more selection towards small sweets have more children
Education for MAC is high relative to the population.

Prediction: income higher and stable

Has a job(s)
User survey data suggests compliance with online analytics. The popularity of the site does not to correlate with user friendliness with the site. Each site controls a niche population within its region/state, hence popularity will remain low. Site usage remains similar even with some competitors offering more selection. Site usage is likely do to a brand trust relationship, rather than ease of use and availability. One problem with MAC is that 100% of users get to the site by searching for it, rather than typing it in directly. ~60% of users head to cakenology.com right after visiting MAC.
Information Architecture
The information architecture for many of the web properties could be realigned to better fit the targeted audiences. the following was created based on the analytics, personas, and a card sorting exercise.