#WhatIRun
WhatIRun asks employees, partners, customers, friends, and other women to join a conversation. To share what you run. Women are powerful. And most only see snippets or catch a glimpse into all what we manage and drive on a daily basis. The campaign partners with Ryka shoes, a women specific shoe brand.
A campaign asking women what they run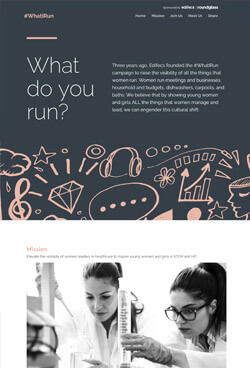 Goals
Create a site that allows women in industry to submit their profile information. Each profile is vetted and if approved, added to the site for display. The site would be featured at a HIMSS 2016, 2017, 2018 booth for convention goers to submit. Long term goals are to continue to market the cause to more people and grow the profile list.
Strategy
The general digital marketing strategy uses Twitter and direct messaging as a primary communication tool. Many profiles are expanded upon after submitting by reaching out to the submitter. Several individuals have even recorded video profiles for the campaign. All submitters are entered in to win a pair of Ryka athletic shoes.
Built With
Achivements
Since its launch, WhatIRun has had over 70 full submissions. This includes many tweets and social media mentions. Sentiment trackers show positive results. The campaign has been mentioned by United Nations Women, then inundating the site with traffic.